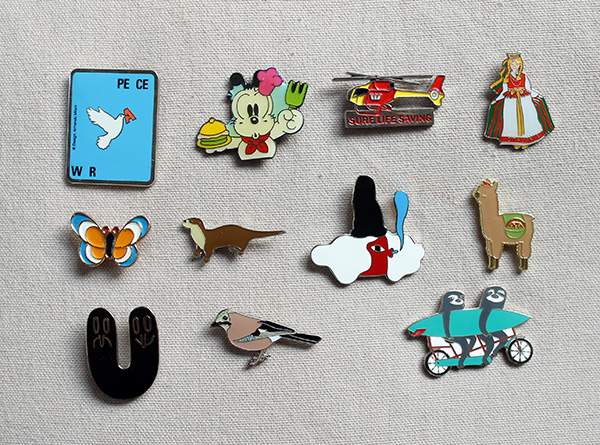 This is my little collection of badges.
Top row, left to right:
A souvenir my friend Justė brought me from her trip in Europe, Armando Milani badge.
I can't remember where I got this, I think in some Asian groceries shop, somewhere very unusual. Or garage sale. I either paid 50 cents or got it as a free bonus.
Surf life saving badge. It was one of those support a cause stalls, you buy a lottery ticket or a small symbolic souvenir  and all money go to the organisation. I really wanted to feel safe in the ocean. And a helicopter badge 🙂
Girl in traditional Lithuanian costume. Gift from a friend.
Second row.
Butterfly. Vintage one, from the box I told you about in the previous post.
Otter from the series "Latvian animals".
Total babe by Lithuanian/international artist Eglė Žvirblytė.
Alpaca pizza delivery service by Melbourne's super lovely superstar Cat Rabbit.
Third row.
Rad Rad Rad Sad by another cool illustrator Jose Mendez.
A bird from Riga, Latvian animals series.
Tandem Sloths by… me. I had to transfer one of my most popular characters into a badge.