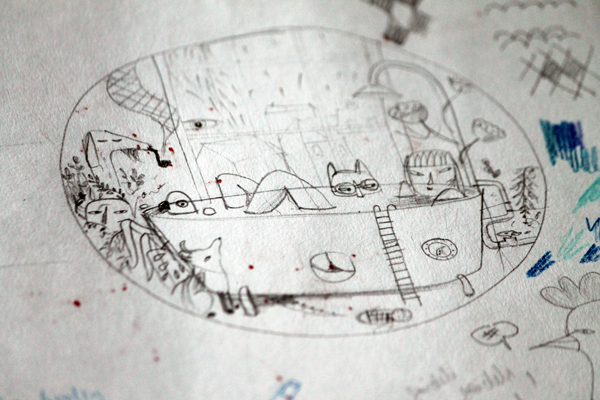 I don't know why, but I love drawing bathtubs and bathrooms.

Even when studying I used the image of bathtub twice. I was just learning how to draw in vectors back then 😀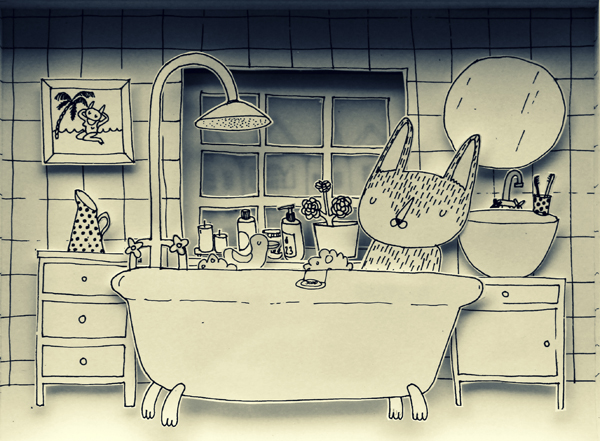 Even though bathrooms might be a pretty boring, there is something special about them. I remember standard bathroom in some block buildings in Vilnius. Bathrooms were tiny with a little window very high, near the ceiling looking to the kitchen. It was probably for the light saving. High enough so no one could see you in the bathroom it still looked like some fun for a child. And people used to stick some stickers on the tiles or mirrors. Mostly flowers, sometimes birds and if they were lucky enough to get these – some cartoon or animation characters. If you still have them in your bathroom – take a picture for me.
Some people covered all the walls in the toilet with posters of little cats and dogs. Or other animals. Pages from imported magazines with movie stars. Crazy things.
Finished work. I enjoyed drawing with that blue pencil! Somehow pencil works look very good when printed.
After seeing this a friend reminded this animation made by my animation teacher. It was one of my favorites in the childhood:
httpv://www.youtube.com/watch?v=1WBgTrCBKEM